The Turkish Cargo system allow to track your air cargo with the help of AWB number or by contacting to the customer care number. In today market the Turkish Cargo is one of the fastest growing air cargo firms in the global transportation sector. The firm uses the flight network and fleet of its parent company Turkish airlines. Turkish Carbo embraces technology oriented solutions for meeting increasing demands of individual clients and corporate units.
For getting cargo shipped to foreign places, clients must contact the cargo agencies operational in Turkey and affiliated with IATA. The association will conduct the formalities for customs, airway bill issuance, rates and packaging.
Turkish Airlines Cargo Tracking

There are several ways to know the current location of your shipment.
The Turkish Airlines online tracking option allow to check the Cargo with the help of AWB number in 123-12345678 format.
To track cargo, one has to access below official website. Clients must click on the icon 'Cargo Tracking section'.Then clients have to use the AWB number. When the clients provide Airway Bill Number, they get detailed information on shipment from Turkish Cargo Delivery service.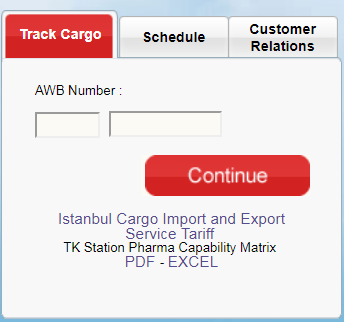 Official Website: https://www.turkishcargo.com.tr
The tracking form of Turkish Cargo is located on to the left hand side.
Alternately, clients can enter the date and number of flight. One needs to contact the Delivery service of the Cargo department at the Point of Arrival(POA). Clients have to submit certificates like letter of proxy, written certificate and identity information.
Track your Turkish Airelines Cargo with Customer Care Number
Alternately, clients can track shipment through Dial cargo service at 08503330777. For reporting about lost shipments, clients must contact Turkish Airlines Cargo Operation Control Department.
Customer Service Number for Lost Luggage
Turkish Cargo Global Contact Number
It is one of the leading players in the air cargo traffic between the East and West of Istanbul. The primary strategy of the firm is client satisfaction. Turkish cargo takes full responsibility of sensitive or perishable goods. Frozen cargo is properly packaged using dry ice or ice battery. The staff at Turkish Cargo devotes maximum attention to customer queries and believes in creating a synergy between client and service provider.
Procedure of Applying for Cargo Transportation
Turkish Airlines transports cargo to domestic as well as foreign destinations through cargo and passenger flights.Turkish airlines cargo provides reliable airport at source to delivery at receiving airport service. One has to contact Cargo reservation department.
The cargo to be shipped must be delivered to the department one and half hours before flight departure.
Other similar Cargo Companies: