Planning to ship your goods using a reliable shipping container from the seaports of Algeria? Check out the list of ports based here with the contact number. Algeria is the 10th largest country in the world. It is bordered in the north by the Mediterranean Sea and by other nations on the remaining sides.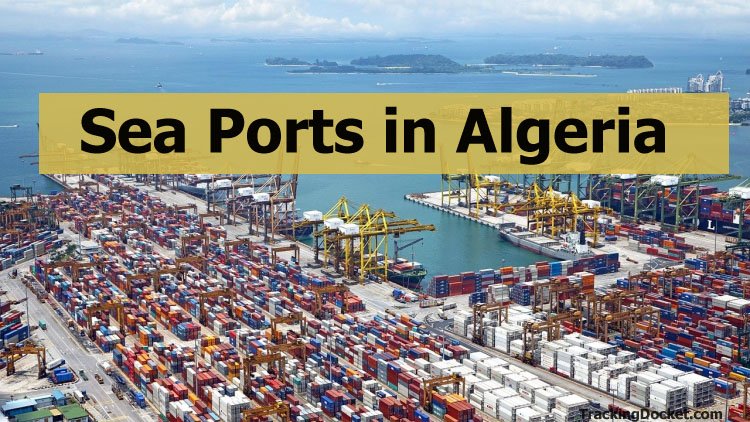 The economy of Algiers is primarily energy export-dependent. It has the 16th largest petroleum reserves globally and the 2nd largest in the continent. It also has the world's 9th largest natural gas reserves. All this makes the economy of Algiers among the largest in Africa. Besides hydrocarbon, agriculture is another sector where the country is fairly prosperous. Tourism has been on the rise in Algeria and it contributes a fair share of the country's GDP.
Algeria exports energy products and imports a wide range of items including capital goods, consumer goods, foodstuff, construction materials, etc. Being located by the Mediterranean Sea, shipping lines ply extensively here. And in keeping with it, Algeria has a big network of ports.
Here is the list of top 17 Sea Ports of Algeria:
Alger Port
The Alger is among the main sea ports of Algeria. It has a large harbour that is of a coastal breakwater type. The cargo pier here has a depth of approximately 15 meters. The port has a small dry dock and oil terminals, too. Major repairs and shelter facilities are available as well.
Arzew El-Djeid
Also known as Bethioua and Arzew New Port, the sea port of Arzew El-Djedid primarily handles shipments related to crude oil and liquefied gas. It is operational since 1979. The port breakwater has a draught of 19.5 meters. It is a medium-sized port that mainly accommodates oil tankers.
Cherchell
Cherchell port is a small port in Algeria. It's primarily a fishing port. Smaller sized vessels dock here and the port mostly handles marine products and some passenger traffic as well. 
Ghazaouet
Ghazaouet is another small port in Algeria. The harbour is small in size and the anchorage depth is around 18 meters. The coastal breakwater harbour facilitates the entry of small and medium ships. The harbour also has limited repair facilities.
Oran
The Port of Oran is also called Wahran. It is a key location for handling commercial marine traffic as it is located by the busy shipping lanes. There are 24 docking positions in the port, spread over 7 commercial basins. The average depth is 25 meters. The port handles dry bulk and liquid cargo with a combined volume of close to 6 million tonnes.
Bejaia
 The port is blessed with certain geographical advantages that, coupled with the state of the art technology, make it a port of choice for many customers across the region. The channel depth is more than 13 meters. The port handles crude oil, gas, and bulk cargo. Passenger vessels also use this port.
Collo
Collo is another small port in Algeria. It has a coastal natural harbour with an anchorage depth of more than 23 meters. There is a small fishing fleet here. Cork is exported from this port. 
Jijel
This small Algerian port has an anchorage depth of around 22 meters. It's a general cargo port. Now the port services are used primarily by fishing vessels and naval vessels.
Port Methanier
Port Methanier primarily handles liquid bulk, LPG, and LNG cargo. The average draft is approximately 10 meters. It is an important industrial port. There's also a refinery here.
Annaba
The port of Annaba is located close to the industrial regions of Algeria. Companies dealing with iron, phosphate, and oil operate in these regions. A robust road and rail network in the area ensures high cargo traffic that the port services. The international airport is also close by. The port handles general and bulk cargo, and also refrigerated items.
BeniSaf
Two breakwaters protect the artificial harbour of BeniSaf. The port has a water area of 17ha. The port has a draught of 6 meters and is a popular fishing port. Moderate repair facilities are also available here.
Dellys
Dellys is a small port in Algeria. The anchorage depth is around 14 meters. It has been in operation since 1925 and mostly handles fishing-related shipments. Dredging operations are underway here to increase the depth and enable larger vessels to enter.
Mostaganem
Mostaganem is another of the smaller ports of the country. It has an anchorage depth of 23+ meters and has a medium-sized dry dock. The harbour size is small and so is the railway here. Limited repair facilities are available. The port handles general cargo and also passenger traffic, including tourists.
Skikda
The historical port of Skikda has been a busy maritime center for almost 170 years. Today, it is an important center for the shipment of hydrocarbon products from Algeria. A medium-sized railway provides services to the port. The port has an anchorage draft of around 15 meters.
Arzew
It's a natural harbour sheltered by a mountain. In the town close by, there is a natural gas plant, oil refinery, and a fertilizer plant, among others. These are the key industries that the port serves. Marine products are also handled by this port. The anchorage depth is close to 23 meters.
DjenDjen
DjenDjen is located quite close to the busy maritime route that connects the Strait of Gibraltar and the Suez Canal. In terms of space and water depth, DjenDjen is a very important port structure in this region. There's a general cargo dock, Ro-Ro dock, and a mixed dock. The port handles a wide range of shipments of various types.
Tenes
The small port of Tenes has an open roadstead type harbour. The anchorage depth is near 15 meters. It is popular as a fishing port and marina. Within a range of 400 km, there is no other port. This also makes Tenes an obvious choice for many customers here. Superior road and rail connections act as a strong support system.
List of 17 Sea Ports in Algeria
Sl. No.
Name & Detail
Phone No.
Website
1
Alger Port

Address: 02 Rue d'Angkor BP 259 Algiers, Gare 259 Algeria

213 21 423614
http://www.portalger.com.dz/
2
Arzew El-Djeid

Address: Arzew El-Djedid Algeria

N/A
N/A
3
Cherchell

Address: Cherchell Algeria

N/A
N/A
4
Ghazaouet

Address: BP 217 Ghazaouet 13400 Algeria

213 43 323345
N/A
5
Oran

Address: 1 Rue du 20 Aout Oran 31000 Algeria

213 41 332441
N/A
6
Bejaia

Address: 13, avenue des freres Amrani Bejaia 06000 Algeria

213 34 21 18 07
http://www.portdebejaia.com.dz/
7
Collo

Address: Collo Algeria

N/A
N/A
8
Jijel

Address: BP 87 Jijel Algeria

213 34 965334
N/A
9
Port Methanier

Address: Port Methanier Algeria

N/A
N/A
10
Annaba

Address: Mole Cigogne Quai Nord Annaba 1232 – 23000 Algeria

213 38 86 3143
http://www.annaba-port.com/
11
BeniSaf

Address:  Route du Port Beni Saf Algeria

213 43 225468
N/A
12
Dellys

Address: Dellys Algeria

213 21 429377
N/A
13
Mostaganem

Address: BP 131 Mostaganem 27000 Algeria

213 45 215938
N/A
14
Skikda

Address: BP 65 Avenue Rezki Rahal Skikda 21000 Algeria

213 38 756827
http://www.skikda-port.com/
15
Arzew

Address:  BP 46 7 Larbi Tebessi Arzew 31200 Algeria

213 41 477127
N/A
16
DjenDjen

Address: BP 87 Jijel 18000 Algeria

213 034 44 65 64
http://www.djendjen-port.com.dz/
17
Tenes

Address: BP 18 Tenes 02200 Algeria

213 27 767276
N/A
Other Sea Ports: