Visakha Container Terminal Private Limited(VCTPL) was established in 2002 when International Cargo terminals entered into a Joint venture with Infrastructure Private Limited. Its headquarters are situated in the Exim park of Visakhapatnam, situated on the East coast of India. It is close to the Malacca straits. It has a quay length of 450 m. NAVIS N4 is the terminal operating system(TOS). VCTPL is an ideal gateway for container traffic from the adjacent states like Telangana and Andhra Pradesh to far off states like Madhya Pradesh and West Bengal. With a natural depth of 17m, it is the deepest terminal in India. Due to its core policy of customers first, the firm develops proactive and innovative solutions for offering customers a unique experience.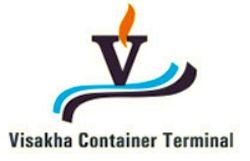 The firm is equipped with modern and quality infrastructure. It has 6 rail-mounted quay cranes and 366 reefer points. It has 2 full-length rail sidings and the offices are fully computerized. The gated complex is automated and the systems are EDI supported. The NAVIS SPARCS N4 software is available for vessel or yard planning. Advanced software systems ensure reliable and secure systems. Thus the firm has adequate flexibility to meet growing customer demands. VCTPL has been accredited by organizations like ISO and AEO.
It has a decent growth rate with a Compounded Annual Growth rate(CAGR) of 22%. Presently, it has a terminal capacity of 0.55 million TEU's. VCTPL is gradually evolving as a transshipment hub in the Bay of Bengal. Within the next 2 years, the capacity is expected to grow to 1.5 million TEU. 
Services offered
Container operations
Handling of Inland Container Depot (ICD) containers
Reefer operations
Warehousing
Value-added services
Tracking VCTPL Container Online
Customers get real-time updates about the expected shipment. In order to track a VCTPL container shipment, customers must access the online tracker. One has to enter the container number in the slot provided.
1) Enter the Container number carefully without any space
2) Click on the Search button
3) It will show the current container/shipment status.
Alternatively, customers can drop in an email to bdc@vctpl.com. They can also call the support team using the number +91-89128-77000.
Unique Features
Situated strategically, with good connectivity to industrial facilities
First public-private partnership(PPP) project in Andhra Pradesh
The deepest terminal in the nation with a natural depth of 17 m.
Equipped with modern infrastructures like Post Panamax STS cranes and Navis SPARCs N 4 software and about 366 reefer plug points.
Branch offices fully computerized and equipped with state of the art infrastructure
VCTPL Head Office Address
Visakha Container Terminal Pvt. Ltd.
Opposite Town Hall, Beach Road,
Visakhapatnam
Pin Code: 530001.
Andhra Pradesh
India
Customer Support
The VCTPL setup its own customer support and helpline number that can be used to track and trace the container.  Apart from this, below contact number can be used for booking, feedback, and complaint as well:
Telephone Number : +91 -89-1287-7000
Fax  Number: +91-89-1273-9765
Email: bdc@vctpl.com
Website: www.vctpl.com