Transmar is one of the front-ranking companies, which offers dependable, sustainable, and secure services to industries across places in Middle-East, Red Sea, Arabian Gulf, and east-coast of Africa. Formerly known as IACC shipping, Transmar is a completely owned subsidiary of IACC holdings. With almost forty years of experience, the Company has now earned high reputation as a tough, speedy, and highly approachable shipper. With its pioneering services, it has always fast progress through its innovations. For this, it has rapidly expanded its business across the globe. The Company has stayed focused on its relationship with its long-term customers.
Services Available
Containers – The Company has at its disposal all types of containers to transport every kind of commodity. It makes use of all types of vehicles like trucks, rail cars, and vessels to transport consignments across the places. Transmar is always focused on giving secure and dependable transportation of commodities through containers. The sizes of the containers vary from 20 to 50 feet and those are capable of transporting every type of consignment. Similar types of services are also offered by Florens Shipping company.
ExtensiveRoutes –  It has expanded its network to three nations like Egypt, K.S.A., and U.A.E.. It makes use of RES route that covers Adabiya, Jeddah, and Port Sudan. It also has another route, namely UPG route that covers Adabiya, Jubail, Dammam, Khalifa, Jebel Ali, and Jeddah.
Tracking Transmar Container
At the time of booking the Transmar Company given your Bill of Landing or Container number, that you can use it to check your shipment status. Enter either of detail to track Transmar container in real time. Here is a print-screen of the tracking tool: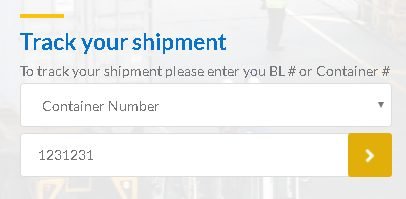 Follow below steps to check your shipment status:
Get your B/L or Tracking number ready
Go to the official page here.
Enter your detail and click on arrow button.
It will show the shipment status on same page.
Customer Care
Another option for Transmar tracking is to give a call to the customer care or send a request email and mention your B/L or container number. You will get the updated status instantly over phone or 2-3 days via email.
Telephone Number: +202 26 142860
Telephone Number: +202 26 142861
Telephone Number: +202 26 142862
Fax Number: +202 26 142883
Email Id: transmar@transmar.com
Website: https://www.transmar.com/
Head Office Address:
Plot (45b), 4th Floor
North 90 Street
5th Settlement
P.O. Box: 11835
New Cairo, Egypt
Transmar Container Ships
| | | | | | |
| --- | --- | --- | --- | --- | --- |
| Ship Number | Ship Name | Year Built | DWT | TEU | Length |
| 9167332 | TRANSMAR | 1998 | 246 | N/A | 89.72 |
| 7637670 | TRANSMAR | 1977 | 50 | N/A | 123.9 |
| 7427611 | TRANSMAR | 1976 | 72 | N/A | 83.5 |
| 9167332 | TRANSMAR | 1998 | 246 | N/A | 89.72 |