The Maa Annapurna Transport also known as MATA given order tracking solution to check the delivery status online.  The MATA was founded in 1998. It's headquarters are in Topsia Road, Kolkata. Initially, it was a regional trucking company stationed in Eastern India. Over 2 decadesof establishment, it has achieved tremendous progress. Presently, it has become a one stop destination serving all  logistics needs. MATA has 235 branches spread across all corners of India.The firm looks forward to achieving logistics solutions with value addition. For details, you can refer the firm's website www.matagroup.in.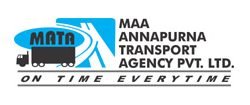 How to Track MATA Consignment
To track consignment one has to enter consignment number, follow below steps to check the status of your transport:
Go to Tracking page of MATA from this URL.
Enter your Consignment Number in the box
Click on TRACK ME button and it will show the current status of your transport.
Please note that you can track up to 10 consignments at one go.
By Calling Customer Care Number
If the tracking page doesn't work, you can contact head office personnel using the contact number 78907-44444.
Check status by sending an email
The last but the easiest way to track the MATA transport is to send an email.
Login to your Email Account
Provide your Full Name, Contact Number and Consignment Number.
And drop an email to mataplt@matagroup.in
You can expect a reply from MATA customer care by 02 working days.
About Mata
MATA Transport works through systematic network of 20 major and minor hubs located at strategic positions. It has been honored with ISO 9001:2008 certification. Policies are around core philosophies of quality and efficiency. MATA Transports' policies comply with their marketing slogan'On time Every time'.
MATA Transports is supported by 2000 dedicated employees. The firm has an extensive portfolio of clients. It is equipped with 400 company owned vehicles, HCV, LCV mechanical axles and prime movers. There is assurance of safe delivery of consignment with the help of its hub and spoke model of network. The firm has 200 franchise units.
All it's operational units are equipped with cutting edge Technologies. Before deciding the delivery route, an initial route survey is conducted. Any obstacles on the delivery route are traced prior to departure from site. This feature helps in arranging hassle free goods transportation. Hence, transportation time is effectively reduced.
Key Features
Utilization of cutting edge technologies for operations
Hub and spoke model of Network
One stop solution for integrated logistics solutions
Optimized multi-modal transportation solutions