Found in 1946, Groupe Robert is a reputed organisation in North American logistics industry. The firm is named after its founder Rosario Robert. It started its services as a small trucking company. Over the years, it gradually expanded in network and service range, with continued focus on progress and efficiency. Group Robert has entered into many strategic alliances and acquired specialized carrier vessels like Sycamore and Jaclin.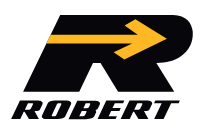 Groupe Robert has a very widely distributed network. At present, it has 41 distribution centers and terminals. It is equipped with a fleet of 3000 tractors and 1400 trailers. The firm is supported by advanced infrastructure and responsible workforce. It employees a talent pool of 3500 people from all over the globe. The distribution team works in order to deliver clients with reliable, safe, consistent and innovative services.
Customers can use Robert Transport Tracking by using PRO bill number or customer service to check the delivery status of Freight, Trucking and Shipment online.
How to Track Robert Transport Shipment
The company given online system to check the delivery status. Clients can track the Robert Transport shipment in 2 ways:
Using Probill Number
Using PO Number along with Zip Code
In order to track shipment clients have to provide necessary detail and click on Submit button.
Check Delivery Status by Calling Customer Service
For any types of queries, clients can contact Montreal office using the number 514521.1011. Else they can contact Toronto office using the number 905564.5550
About Robert Transport
At Groupe Robert, client can get solutions to all kinds of logistics needs along with 3PL services.The firm takes due care of clients' business goals. The solutions invented here help to boost productivity and reach new landmarks in performance. In 2017, Groupe Robert earned the first position at the prestigious Fleet Safety Awards, presented by Truckload Carriers Association. Groupe Robert has achieved the honour for its record of lowest accident frequency per million miles.
Groupe Robert operates in the following sectors:
1) Warehousing (with a facility of 3500 square feet)
2) Order handling
3) Logistics (Also check Velex Logistics company detail)
4) LTL and Intermodal Transportation
Key features
Innovative solutions in logistics
High quality and performance standards
3PL services
Customer friendly and progress oriented approach