Enter the Bill of landing to check APL Container tracking online. Customers can also find the status of cargo and shipping in real-time by using customer care numbers. APL is one of the largest international ocean carriers. APL was found in 1978. Since its inception, the shipping firm has grown continuously and offered a range of innovative solutions for its clients. It provides 110 weekly services and call ports, for transshipment services. With a network distributed across 70 nations, it serves its clients with high-quality inter-modal operations, infrastructure, technology and communication services. Its a marketing slogan is 'Moving Business Forward'.For its consistent performance, APL has bagged the Container-ship Operator of the year on 27 September 2018 at the Lloyd's List Asia Pacific Awards.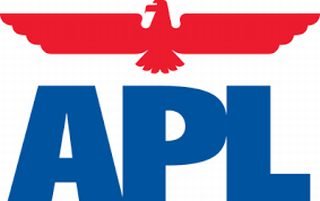 How to Track Your APL Container Online
Clients can avail of the container tracking facility through the online interface. In order to track their containers, clients have to provide the APL unique container number with the prefix APLU followed by six digits. Press the Track button provided below to get instant information about your consignment.
Alternately, one can track the container by entering only the numeric portion of the APL bill of lading (BOL).
One can also avail of the Route Finder facility. Clients have to enter specific information like destination, date, equipment type and the points of origin and destination. Then one must click on the Search Schedule icon.
About APL
Official website: https://www.apl.com
Email IDs:  erep.europe@apl.com / erep.asia@apl.com / erep.europe@apl.com
APL operates a fleet of 90 vessels, which are fuel-efficient and environment-friendly. The operational quality is exceptional with competitive transit times, in order to maintain its reputation. Over its vast experience of 170 years, APL has stayed true to its aim of sustainable Global trade. The Shared Service Centre(SSC) supports the critical shipping operations of customer service, operations, finance, and accounting, etc. APL also helps its clients expand their businesses to comply with the norms of the dynamic market.
Services offer by APL
Extensive US intermodal network for facilitating inland transportation
Carriage of cargo in refrigerated or climate-controlled conditions
Transportation of over-sized or hazardous cargo safely.
Information transparency with online tracker facility.
APL Container Ships
| | | | | | |
| --- | --- | --- | --- | --- | --- |
| Ship Number | Ship Name | Year Built | TEU | DWT | Length |
| 9631955 | APL TEMASEK | 2013 | 13,892 | 1,50,936 | 368.5 |
| 9631993 | APL VANDA | 2013 | 13,892 | 1,50,951 | 368.5 |
| 9631979 | APL RAFFLES | 2013 | 13,892 | 1,50,936 | 368.5 |
| 9627980 | OOCL MALAYSIA | 2013 | 13,200 | 1,44,162 | 366.469 |
| 9461879 | APL GWANGYANG | 2011 | 10,106 | 1,23,159 | 349 |
| 9461867 | APL CHONGQING | 2011 | 10,100 | 1,23,137 | 349.27 |
| 9350018 | APL MINNESOTA | 2008 | 6,350 | 72,912 | 293.18 |
| 9350032 | APL FLORIDA | 2008 | 6,350 | 72,912 | 293.18 |
| 9350020 | APL NEW JERSEY | 2008 | 6,350 | 72,912 | 293.18 |
| 9074391 | APL JAPAN | 1995 | 5,108 | 66,520 | 276.3 |
| 9139749 | APL CORAL | 1998 | 5,020 | 64,145 | 275.2 |
| 9395953 | NAVIOS FELICITAS | 2010 | 4,300 | 52,360 | 258.89 |
| 9345960 | APL DENVER | 2008 | 4,250 | 55,612 | 267.15 |
| 9332250 | APL OAKLAND | 2008 | 4,250 | 55,476 | 267.17 |
| 9431757 | LENA-S. | 2010 | 4,250 | 50,246 | 261.1 |
| 9345958 | APL LOS ANGELES | 2008 | 4,250 | 55,387 | 267.17 |
| 9401063 | ALS APOLLO | 2009 | 3,853 | 51,758 | 260.05 |
| 301445 | BOMAR CALAIS | 2005 | 2,556 | 34,263 | 210.07 |
| 9506394 | BALEARES | 2014 | 2,500 | 34,022 | 208.85 |
| 9347281 | WINNER | 2008 | 1,819 | 28,170 | 186 |
| 295505 | MIZAR | 2005 | 1,341 | 17,350 | 161.3 |
| 9295517 | AS FRANZISKA | 2005 | 1,335 | 17,350 | 161.3 |
| 9322865 | ASIATIC GLORY | 2006 | 1,155 | 12,545 | 148.53 |
| 9396634 | SATURN | 2008 | 953 | 17,350 | 161.3 |
| 9301081 | VEGA ALPHA | 2005 | 900 | 10,746 | 154.85 |