Check out TAL international container tracking with the help of reference number. Find the status of shipment and helpline number of docket. Owner of large businesses and corporations faces a number of problems all the time. One of these problems is to get your hands on intermodal containers. These containers are not easily available, and you have to search a long list of providers to get one. So, what can you do? TAL International Container Corporation will provide you with your necessary intermodal containers and chassis. And you can certainly trust them for the best service in the market.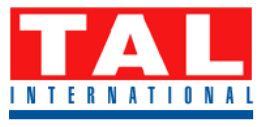 TAL International Container Corporation is a world recognized container provider. It works under the TAL International Group, Inc., which was established in 1963. TAL went through a major corporate change, when TAL International Group, Inc. merged with Triton Container International Limited on July 12, 2016 and gave life to the newly created Triton International Limited. The merged Triton International Limited is the world's largest lessor of intermodal containers and chassis.
Tracking of TAL International Container
Whether you sent any shipment or wanted to know about container status, all you have to do is to login to the TAL official website with valid username and password.
Customers need to go to the login page enter correct details and from there they can track the container at one click. This option also allow customers to find the available container, rates and office contact address.
Main Operations
TAL International Container Corporation provides a variety of services, some of them are:
The TAL International Container Corporation deals with acquisition, leasing, re-leasing, and primarily the sale of intermodal containers worldwide. Thus, when you are availing TAL's services, you don't even have to buy the containers if you need them for a short period of time, you can just lease them and save a lot of money.
It also offers dry freight containers for general cargo which includes manufactured component parts, consumer staples, electronics and apparels. Moreover it also extends it services to refrigerated containers for perishable items, such as, fresh food items and frozen items like fish, fruits, vegetables, etc.
When you avail TAL's containers you will also get special containers for heavy and oversized cargo which may include marble slabs, building products and heavy machinery. However, this is not the end of its services.
TAL also provides tank and palletwide containers, open tops, flat racks, and generator sets. It also provides slot brokering services for empty containers.
TAL also re-sells used container for low prices, which is good for your business as they obviously comes cheaper than the new ones.
As of 2013, TAL has over 2 million twenty-foot equivalent unit or TEU containers