The shipping company FCIU provided its online container tracking in order to check the status of shipment. They offering wide range of services with customer support. In the container leasing business, Florens Asset management Company Limited is a well established name. Florens began its business in 1987, by delivering its first container under long term lease, and since then there was no looking back. So, when in 1996, Florens invested to become a globally recognized container leasing company, by opening offices and depots worldwide, it was already a thriving business.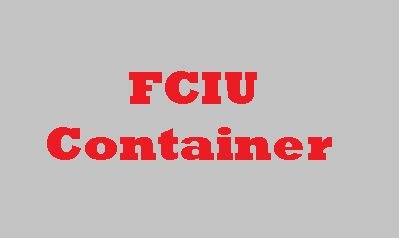 It specializes in long-term as well as short-term leasing of open-tops, flat-racks, dry containers and refrigerated containers. However, leasing is not the only sector that Florens focuses on; overtime it has established itself to be a well regarded seller of used cargo, as well, all around the world.
FCIU Container Tracking
Just enter the BL or Container number of FCIU shipping company for online tracking and it will show the status at one click.
Quality services offered by Florens
There are innumerable services that Florens offers, the exclusive ones are stated below.
A range of containers
Florens take pride in the fact that they are the second largest company in the container leasing industry. They occupy a 19.6% global share. They have an array of containers and you can lease the one you need for your freight. They types available with Florens are:
Dry Containers- They have 20' containers, 40' dry containers and 40' dry high cube containers.
Refrigerated Containers- Florens provides the services of 20' refrigerated containers, 40' refrigerated containers and 40' refrigerated high cube containers.
Open Top Containers- 20' open top containers and 40' open top containers are available for you to lease.
Flat Rack- You have the liberty to lease 20' flat rack and 40' flat rack from Florens.
Web based marketing services
By investing millions of dollars on IT solutions that will ease customer transactions, Florens have provided web based portal for its customers to conduct services like booking, re-delivery, inventory inquiries, M&R processing, specifications, unit status, replacement valuation, technical resources and various industry links. Florens have always valued customer's demands prior to anything else. So it is natural that Florens wanted to make it easier for its customers to access the services easily through a mobile app which can be downloaded on iOS and Android devices. It offers a real-time transactional and decision assisting tools to support their customers and business partners.