Balmer Lawrie was established as a partnership firm on 1st February 1867. Today they have online container tracking facility to check the shipment status. Today, it has achieved the status of being a Miniratna-I. Public Sector Enterprise, under the Ministry of Petroleum and Natural gas. It has as many as 5 joint ventures, situated in India and abroad. It is a branch of IATA.
Tracking Balmer Lawrie Container
Balmer Lawrie is a logistics service provider given container tracking solution via its online and offline system. Customers can find the status of shipment instantly.
Track and Trace Online
For tracking online, a client has to access the website and enter location and specific container number which is to be tracked. Clients can input single or multiple containers. They can use Track or Advanced Track options. One can avail tracking request facility as well.  This is how the online tracing form looks like: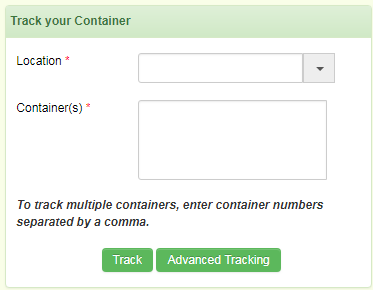 Customers can go to the online portal here to check the shipment status.
Track via Contact Number
Clients can track their consignment sent by Balmer Lawrie with the phone number 2724066. They will also stay updated with recent changes.
Additionally, customer can call to below helpline number for instant support:
Customer Care Number: +91-33-2222-5218
Email: sen.k@balmerlawrie.com
Use Email ID to Trace Shipment
To track their consignments, clients may opt for email communication and send an email to Balmer Lawries Co Ltd customer support.
The email id is: koli.ka@balmerlawrie.com
Make sure to include container number of bill of landing detail in email.
About Balmer Lawrie
Balmer Lawrie is known for flawless logistics solutions for all variations of cargo transportation. It has also established its presence on a national as well as international scale.
Balmer Lawrie has also made its mark in services like aircraft chartering, airlifting of sensitive defense equipments, helicopters, missiles and satellite parts.
Balmer Lawrieis one of the top ocean cargo operators.  Among its services are Non vessel operating commoncarriers(N.V.O.C.C), multi modal transport operation, Vessel chartering, project cargo logistic movement. It promises its clients swift storage and prompt retrieval.Consignment includes thermally sensitive or perishable products.
With constant emphasis on product innovation, it strives to be a leader in the market.