Allalouf Group is a reputed marine transportation and logistics firm. It is named in the honour of the founder Nathan Allalouf. It was established in the year 1919 in Greece. After about 10 years, the network spread to Israel. Presently the firm has its headquarters in Tel Aviv, Israel. Allouf and co. shipping group has the advertising tag line of 'With you in the ports of the world'. The firm is like a gateway connecting Israel to world trade.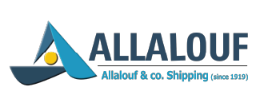 The multinational firm provides services in varied modes of goods transportation, storage, cargo handling and container handling. The company also provides logistics as well as service solutions for imported cargo after customs clearance. Allalouf Logistics is the sea freight forwarding division and offers integrated supply chain solutions for all cargo. Allalouf shipping is engaged in marine transportation. It operates through its branches stationed in various ports of Israel i.e. Ashdod, Eilat, Haifa and Tel Aviv. The transported goods are sorted into specific categories like dangerous cargo, refrigerated cargo, oversized cargo, RORO Cargo, Dry cargo and General cargo. Marine Reefer containers and handled responsibly in transit and up to destination to consigned party.
Services Offering
Allalouf Group offers the following services
Sea transportation
Intermodal transportation
Sales of used containers
Port services like warehousing and packaging
Repairing services
International freight forwarding services via routes of air, land, sea
How to track Allalouf  Container consignment?
One can get information about container tracking using either Equipment number or Shipment number.  Provide any one of the Allalouf's detail and click on Search, it will display the shipment status in real time:
Clients can get in touch with the Allalouf branch and department for getting professional advice or service related information.
One can get in touch with company representatives using the number +972-03-5640202. Additionally, customer can get more information over email by entering name and contact information in the contact us section.
Service Features
1. Assurance of prompt delivery
2. Provision of refrigerated cargo services for temperature sensitive goods
3. Comprehensive shipping and logistics solutions
4. Industrial foothold with decades of experience
Head Office Address
Office No-2, Hashlosha Street, Tel Aviv
Zip Code: 6706054
Israel
Customer Support
The Allalouf Shipping company provided its helpline number. If you have any queries or complaint regarding shipment then give a call to below number or drop an email:
Telephone Number: +972-03-5640202
General Phone Number: +972-4-8611817
Fax Number: +972-03-7601135 / 7
Dedicated Customer Support Email: doritduek@allalouf.com
Email Id: mail@allalouf.com, na@allalouf.com
Website: http://www.allalouf.com/